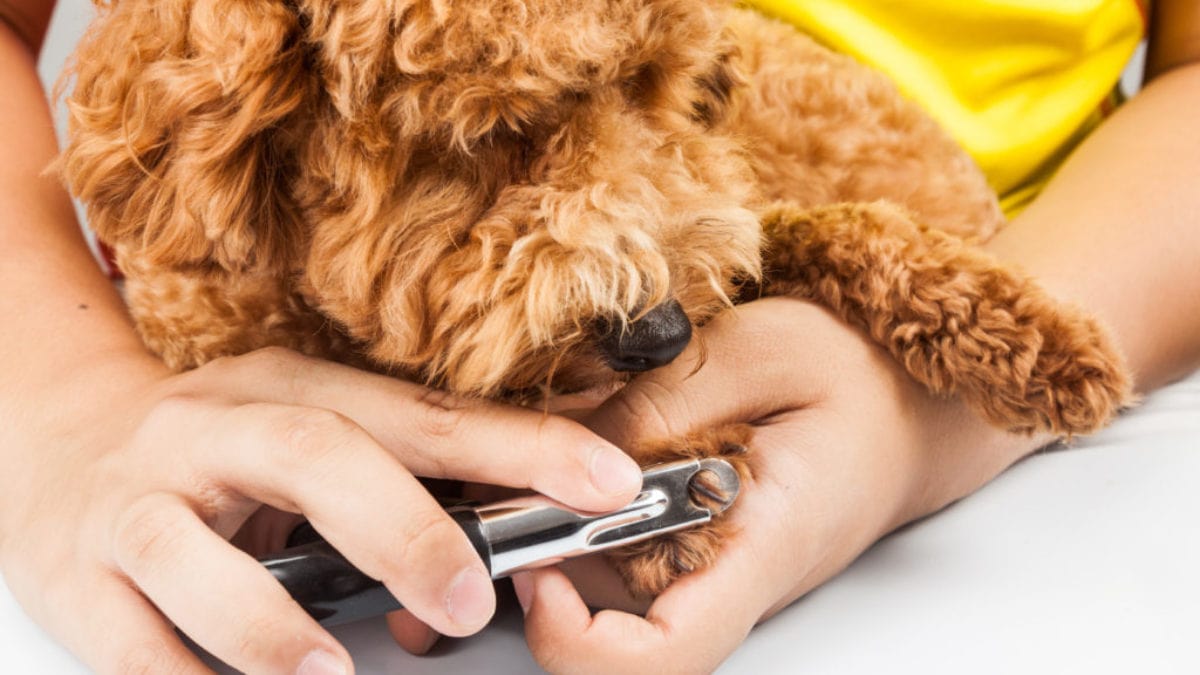 Dog grooming is one of your dog's basic needs and an important part of dog ownership. Just like people, dogs need physical maintenance to look and feel their best.
However, most of the dogs really hate the part of clipping their nails, and that's can be really stressful for the owners. Simply because they fear to cause any hurts to their dogs. So why we have to do this in the first place? Keep reading to find out.
Why Dogs Need To Have Their Nails Clipped
When your dog's nails start to grow up longer that would cause many things, it can hamper his ability to walk and run correctly. That would be kind of painful thing.
If he keeps doing it, odds are he'll readjust his whole posture to make it hurt less, which can result in back and joint problems, among others.
For dogs with an active lifestyle, walking, running or playing on rough surfaces may be enough to wear the nails down naturally. But most dogs need a nail trim every three weeks or so.
Moreover, the long nails can also catch on the things and causes the nail to break in a painful way. And sometimes can cause cruel injuries. And, Sometimes you can be the one who is hurt because of these long nails.
The Biggest Concern!
So what can possibly happen wrongly during the process of cutting nails? The answer is there are many. As we mentioned above dogs really hate cutting nails, so they refuse to calm down and sit calmly.
So if you decided to do this process in your home you need to know that it will take two-person. And that means you need someone to help you in holding the dog while you can quickly trim the nails.
But, you have to be prepared for all the possible scenarios. Your dog may bite. You may think that if you do it quickly you will facilitate the process. But that's not true if you speed up while you start cutting your dog's nails there's always a possibility to trimming his nails and that's overly Agonizing for the dog and is bleeds profusely.
In case if your dog has white nails, that would be really easy to spot the speed and Pull Away. But if he has dark claws, it will be a hard task. So, you need to be really
careful, you can just cut a little and just trim his nails once in a while in order to keep him under your control.
How to Clip Your Dog's Nails Painlessly
Below you will find all the steps that you should follow to do this process. That's Will takes only simple tools, yummy treats and a lot of patience and consistency.
Step 1 – Get the Best Clipper For Him
We actually advise by this kind of scissor clipper. And it's really perfect for the tiny dogs, simply because it's easy to deal with, this clipper will not take you a big effort to do this process.
In addition, what makes this scissor clipper more special is that it's extremely safe. While using it you won't be afraid of cutting too much and reaching the speed.
In case if you are looking for something more useful and don't require much effort or Accuracy, then this would be the one so far!
Moreover, if your dog not a fan of clipping nails, that's will be great for him, It Essentially grinds the nail in slowly, comfortably way until it reaches the length you prefer.
You will definitely notice the change, your dog will be less anxious after the process. One more thing, it's quiet. This tool is definitely the best choice that any dog owner can use.
Step 2 – Choose The Right Time Of Day
You need to choose the perfect moment to start this process. We advise you to pick the time when you notice your dog is more relaxed or exhausted after a busy day playing and having fun. Then, place him in a comfortable space.
Step 3 – Keep Him Calm
After picking the right time, the next step is Talking to him so as to help him to be relieved, you can also Massage his paws and feet for a while until you feel that he is fine with it.
After this show him the clipper and let him sniff it, then start Progressively touching his paws with it until you feel that he is prepared for the process.
Step 4 – Start Small
We advise here especially for the first time to start by cutting only the tips, then it is your choice to cut more or not.
In case If the nails are white, it will be definitely simple and easy to spot the speed and pull away from it.
Step 5 – Hold The Foot Gently But Firmly
Place yourself right next to your pup, then Grip his paw beside you, leg against your body. In case if find any issue keeping him Firm, especially if he is a massive dog, you need to apply some weight so as to control your furry friend. Then immediately start.
Step 6 – Give Him Plenty Of Love
In every clip, you need to praise your dog, give him a tasty treat and some hugs, anything you see will work. Try to keep him calm, feeling extremely comfort as much as you can.
Step 7 – Remain Calm
You may cut the quick During the whole process, so, in case if that happened what you need to do is to try to Mitigate the pain of your dog and provide him his favorite treats while you work on stopping the blood.
Step 8 – Don't Forget To File The Nails
After you complete the clipping process, what you need to finally do is to file the nails. Whether it's something he Strife with, you might allow him to file those Harsh edges while he plays and enjoys his time running around on the harsh ground.
If Nothing Else Works… In case if you keep trying, and you can't manage to do this process, or you find it very hard, stressful for the both of you, or simply you are not confident enough because you are afraid to cause hurt to your dog, then it will be better if you take him to the vet.
The vet is already an expert in these kinds of things, so he is used to doing this process, he can finish the whole process quickly and also without making so much pain to your pup.
However, to be honest it will be better if you can find a way to let your dog to Approve having his nails clipped by you, in your own home, that's will make him more comfortable like any exercise or activity he does in-home, besides this, your dog won't be in much pain being around cuddling him. So, we really hope you can follow these steps that we show you, and be able to clip your dog's nails by your own